A retractable hose is a versatile and user-friendly tool that offers a fantastic solution to traditional garden hoses.
Rather than wrestling with a heavy and rigid standard rubber hose, a retractable hose extends when in use and retracts back to a compact size on a reel when not in use. This makes it easy to use and store away when compared to a conventional hose.
Are Retractable Hoses Heavy-Duty & Durable?
Retractable hoses can be heavy-duty, although not all are created equal.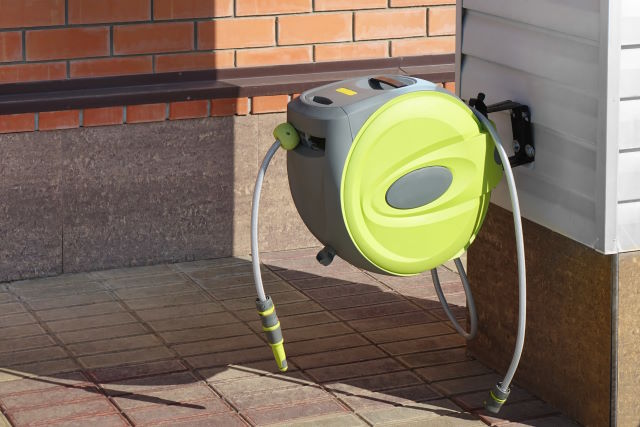 The key factor that determines the durability and toughness of a retractable garden hose lies in the materials used and the quality of the construction. The inclusion of a top-quality heavy-duty hose is also important.
High-end, premium hoses, and heavy-duty hoses often feature tough rubber hose material, solid brass connectors, and durable construction that withstands extreme temperatures and resists kinks.
These are significantly more durable than cheap hoses which often utilize plastic fittings and can be prone to leaks and breaks.
In the past, I have has some issues with a Hozelock retractable hose reel with plastic fittings.
At times, the internal plastic connectors would become loose and leak. So I would need to take it apart and reattach the hose. So, it's unlikely that a retractable reel like this would be able to reliably withstand use at high water pressure.
It may be possible to attach a heavy-duty hose to a standard retractable reel but there is potential for future issues such as the retracting mechanism becoming prematurely worn due to the heavier weight of the hose.
Which Retracting Hoses Are Heavy Duty?
When you're looking for a heavy-duty retractable hose, there are a few key things to consider. The quality of the hose material, the durability of the fittings, and the hose's resistance to kinks are all important factors.
You want a hose that is made with a durable option like a tough rubber hose and has solid brass fittings or aluminum fittings rather than plastic ones.
As the hose will likely be connected to your outdoor spigot for extended periods, avoid aluminum fittings as they can become corroded to a brass spigot.
Some retractable hoses also come with a lifetime warranty, offering peace of mind that the product is designed to last.
Here are a few heavy-duty retractable hoses that I recommend:
Giraffe Tools AW405
The Giraffe Tools AW models are some of the heavier-duty retractable hoses available. They feature an extraordinary fusion of innovative features and aesthetics.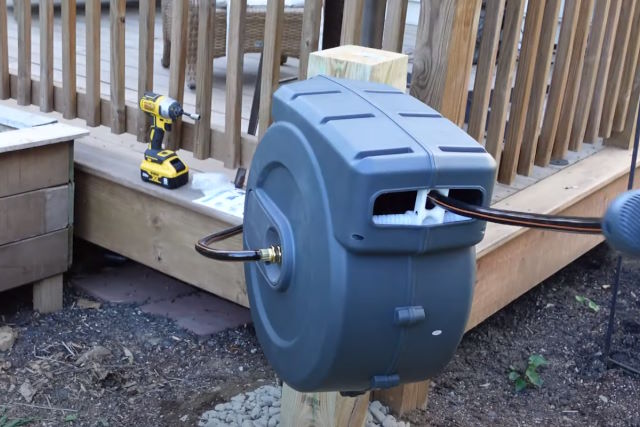 There's a certain level of finesse and sophistication that comes with the Giraffe retractable garden hose reel, making it more than just an ordinary garden tool. Its design, which is a combination of personalized features and functional strengths.
Durability
The auto-rewind system, hose locker, 9-mode hose nozzle, and 180-degree swivel bracket are elements that are a standard feature across retractable hoses. But the durability factor, adds much-needed robustness, ultimately saving energy and expense in the long term.
Regarding the materials, the Giraffe garden hose reel shows solid judgment. The use of an intensified polypropylene casing that resists sun or rain exposure is a step in the right direction, preventing deformation and fading.
The choice of brass connections over aluminum alloy ones is a clever move as durable brass fittings outperform their counterparts and avoid galvanic corrosion.
Heavy-Duty Hose
The included Giraffe Hybrid hose is one that I always recommend. It has impressive abrasion resistance, durability, and no memory. Still, the material choices could be more diversified to cater to a wider range of customer preferences.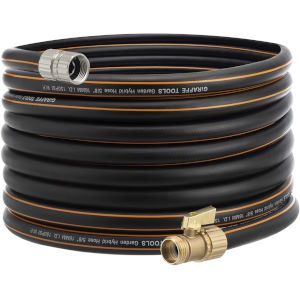 Retraction Mechanism
The Giraffe retractable garden hose reel boasts the G-Self-Layering System, a feature that ensures the hose remains tidy and in place on the reel.
Unlike traditional roller-style feeders, this ball-bearing style feeder is a fresh perspective allowing for multi-directional hose maneuvering without damaging it.
The hose reel introduces the patented DS Trigger Mechanism, an innovation designed to enhance the retraction force of the hose's last few meters. This is intended to improve retraction life.
Conclusion
Finally, the ease of installation and use of the Giraffe hose reel is commendable. The wall mount, achieved by attaching the 180-degree swivel bracket, is straightforward and convenient. Plus, the reel has a quick-release system that allows the reel to be stored away in winter.
Overall, the Giraffe retractable garden hose reel proves to be a valuable asset.
Heavy-Duty Retractable Garden Hose Benefits
Durability and Strength
Premium retractable hoses are designed to withstand the elements. It's likely that your hose will be mounted outside year-round so it should withstand extreme temperatures and cold winter months.
Look for a retractable hose with a durable construction and robust material like solid brass fittings and tough rubber.
Easy to Use and Store Away
Thanks to the retractable design, these hoses are easy to extend and retract, which makes using them a breeze. After use, they can be neatly stored away on a hose reel, which offers convenient storage and helps to protect the hose from damage.
Variety of Sizes/Lengths Available
Whether you have a small garden or a large one, you can find a retractable hose that fits your needs. They come in a variety of sizes and lengths, allowing you to choose the perfect size of hose and diameter of hose for your garden.
Increased Water Pressure
Many heavy-duty retractable hoses have a better internal diameter to provide an enhanced stream of water compared to standard hoses. Their tough material also means that kinks are much less likely.
Variety of Spray Patterns and Settings Available
A quality hose will often come with a versatile hose nozzle that provides a range of spray patterns and settings. This gives you the flexibility to adjust the water flow to suit different tasks.
Hot Water Supply Possible with Certain Models
Some heavy-duty retractable hoses can handle hot water, which can be particularly useful for certain cleaning tasks, filling a pool or RV.
Final Thoughts
Heavy-duty retractable garden hoses offer a number of advantages over a standard retractable garden hose, including tough construction and the potential for increased water pressure.
The best models provide the flexibility and convenience of a standard hose but with greater durability and strength.
While a heavy-duty retractable hose might be a slightly more expensive investment than a cheap hose, the added benefits and potential lifetime warranty can make it a much more affordable option in the long run
Choose wisely and you can have a high-quality, heavy-duty retractable hose that lasts for years and makes your gardening, cleaning, and water supply tasks a pleasure, not a chore.