A good flat garden hose can prove to be a beneficial utility for gardeners who are looking for a pipe to carry large volumes of water that, folds flat and won't kink.
They're not only limited to gardening tasks and are regularly used for filling and emptying pools, providing water to RVs, and of course, putting out fires. A good flat hose pipe is useful for a range of tasks and can be a great tool to have in your arsenal.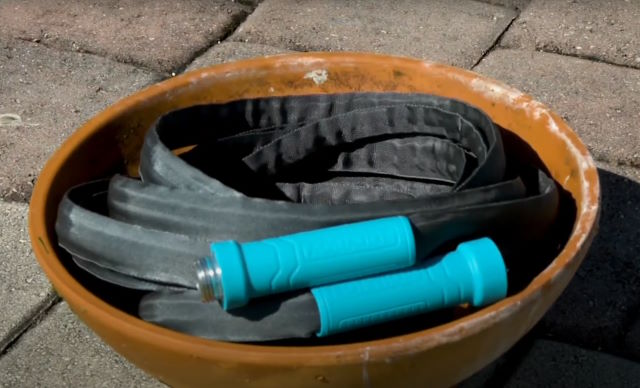 When compared to traditional round garden hosepipes, they are used the same way but flat garden hoses are lightweight, easier to carry, durable, transport a larger amount of water, and easier to roll flat or reel up. For these reasons, they are used by firefighters.
Getting a flat hosepipe is a wise investment. Hence, we are bringing you reviews of our absolute favorites of the best flat garden hoses available on the market:
Top Picks For Flat Hoses
#1
Aqua Joe FiberJacket
Hose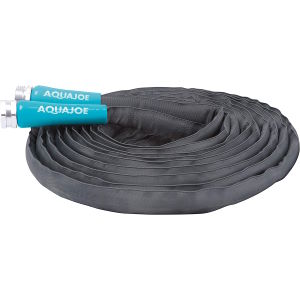 Best
Overall
#2
Apache Blue
Hose
Best
Layflat Discharge
#3
Vetroo Flat Garden Hose Pipe
Best
Flat Garden Sprayer
6 Best Flat Water Hoses
#1 – Aqua Joe FiberJacket Hose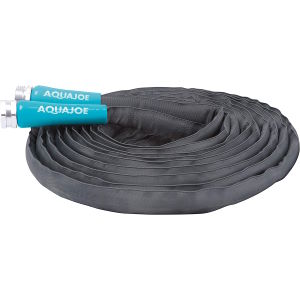 The Aqua Joe FiberJacket Hose is a lightweight, durable, kink-free, expandable garden hose.
It features a marine-grade fiber jacket that's designed to prevent kinks and tangles, which can be a major headache when you're trying to water your plants or wash your car. The fiber jacket also makes this hose incredibly durable.
I like to use this as a portable travel hose when I'm away in my RV.
It works well in cold conditions and maintains its flexibility down to 0 degrees Fahrenheit. Even when I purposely tangled it up, the water continued to flow without any issues.
The 25ft version weighs just under 2lbs. So unlike standard hoses, this one won't weigh you down as you move it around your yard or garden. This makes it an ideal choice for anyone who wants a hose that's easy to handle and won't tire them out.
It's also BPA-free, lead-free, and phthalate-free so it is safe to use for drinking water. You can use it to water your plants or fill up your RV's freshwater tank with confidence.
This flexible hose also comes with the excellent customer support that we expect from Snow Joe products.
#2 – Apache Blue Discharge Hose
Are you looking for a lay-flat heavy-duty hose that can move high amounts of water quickly? For this job, I recommended the Apache Blue discharge hose.
This product is similar to a fire hose and comes with strong fittings. Both pin-lug and camlock fittings are available). However, these are aluminum fittings so if connecting to a brass connection or water spigot, beware of galvanic corrosion.
It is perfectly suitable for agriculture, washing your car, irrigation, or draining your pool. Being highly durable and versatile, its operating temperature range is -5°F to 124°F, which makes it perfect for cold as well as warm weather climates.
Since this heavy-duty hose is abrasion resistant, you can use it without worrying about puncturing or kinking it.
A consistent problem with water hoses, particularly in warmer environments is that they can get mildew and fungus growing in them. But the manufacturers at Apache have made this mildew-proof. Additionally, it also has non-absorbing properties.
The hose is available in a range of diameters from 1.5″ to 4″ and lengths from 25ft to 50ft. Depending on size, weights vary from 4.9lbs to 27.7lbs pounds. These dimensions and weight make it easy to carry and store. When properly rolled up, it only takes up a small footprint, making it a great expandable hose.
Lengthening of the hose is possible by joining it with another hose that comes with a basic 2″ male and a 2″ female threaded coupling. This product is great for open-ended discharge.
Pros
Durable and Abrasion-resistant
Mildew resistant
Can be easily extended by connecting with other hose pipes
Lightweight
Cons
Won't fit garden accessories or sprinkler system straight out of the box
The temperature range may be restrictive for more extreme environments
#3 – Vetroo Flat Garden Hose Pipe with High-Pressure Nozzle Sprayer
If you are intending to use the hose strictly for gardening, this is the one to get! The Vetroo hose is made of a TPE material that gives the product high elasticity and also makes it frost resistant.
Being TPE also means that it is non-toxic and to add more durability, there is a sleek and powerful polyester wire mesh within the hose that prevents rapturing. The strength of this product lies in its excellent construction and being flat means it's a good alternative to a coiled hose and easy to get on a hose reel.
The heavy-duty nozzle sprayer that comes with the hose is made of aluminum, not plastic like cheap hoses. This sprayer has rustproof plating and also has a water pressure regulating button. Turning the spray nozzle tip adjusts the spray patterns to control flow and pressure.
This 40-meter hose is available in blue or yellow colors and comes with one high-pressure hose nozzle, a copper joint, a universal connector, and two hose joints. Its suitable working temperatures are between the range of -22°F to 230°F.
Another great point about the Vetroo flat garden hose is how lightweight and easy to use it is. Since it's so portable, one can use this device for multiple household tasks such as washing cars and cleaning a driveway, amongst other things. The male and female garden hose fittings that come with this product ensure that there are no leaks and won't get damaged like plastic ones can on cheaper hoses.
If you are unsatisfied with it, then you can return it within 60 days of purchase. There is also a one-year warranty on this product.
Pros
Frost resistant
Comes with the high-quality nozzle
Comes with a warranty
Comes with 60 days return offer
Cons
Hard to store or coil
Not as versatile as other hoses in this list
#4 – HydroMaxx Heavy Duty Lay Flat Discharge and Backwash Hose
If you are on the lookout for a super tough flat hose that can work with not just water but also chemicals (including oils and acids), then the HydroMaxx heavy-duty flat discharge hose should be your go-to product.
This product is very multipurpose and it can be used in more industrial work such as mining and construction. It is made up of a high-quality PVC liner that gives the product impressive durability and can handle a high pressure of 6 Bar.
Additionally, it is manufactured out of high-strength polyester fiber that makes the hose resistant to regular twisting and kinking. The working temperature of this product is between the range of – 5 degrees F to 149 degrees F. It is also formulated with UV ray protection which meant that the pipe can comfortably be kept in direct sunlight.
Considering its toughness, it is relatively lightweight. There is no need to worry about this pipe getting caught on thorns. It might even be strong enough to withstand a lawnmower. The diameter of this flat water hose starts at 1 inch, going all the way up to 8 inches. It is available in lengths from 25 feet up to 300 feet.
Pros
Protection from UV rays
Available in a wide range of sizes
Kink resistant
Easy to store
Can work with chemical-based liquids
Cons
Does not come with connectors
The hose might not work well with high-temperature liquids
There are no pressure ratings written on the hose
#5 – Melnor Flat Soaker Hose
A soaker hose is one of the most environmentally friendly tools for watering a garden. Having a good soaker hose not just helps you save water but also makes sure that your vegetable patches, flower beds or grass lawn are well irrigated.
Often times your delicate flower beds or saplings get damaged with the powerful gush of water, or the moisture evaporated before being utilized but with a soaker hose, you can keep your plants hydrated without damaging them.
The Melnor Flat Soaker Garden Hose is one of the best soaker hoses out there. The Melnor brand has a strong reputation as a manufacturer of garden tools, sprinklers, wands, and water timers.
This product comes with a 2-year warranty that covers all manufacturing defects. Unlike most soaker hoses that can take up substantial space, thanks to being flat, this product is not at all space hungry. It only takes up 0.035 ft³ of space, therefore, it is made in a way that makes it very easy to store. The Melnor soaker pipe is very flexible making it good for laying drip irrigation.
One can place it above the ground, over mulch, or on a thin layer of soil. The cap that is attached to the hose is rust-resistant and is made in such a way that it allows multiple pipes to be connected together. It is available in 25ft lengths up to 75ft.
Pros
2-year limited warranty
Durable
Flexible and Portable
Its holes don't get clogged
Cons
For more advanced gardeners
Plastic connectors
#6 – Abbott Rubber Water Discharge Hose
There is a saying that simplicity is the ultimate sophistication, this quote stands true for the Abbott Rubber Water Discharge Hose.
This product is very tough while being user-friendly and performing all functions of a good flat hose without any complications. It is made up of reinforced lay flat PVC.
Some water hoses get ruined because of kinking or rusting but the high-quality PVC material of Abbott Rubber products are less prone to being damaged. When it comes to storage, the diameter is one and a half inches while the hose length is 100 feet. Its total weight is 14 pounds.
This hose is easy to reel and being long it's less likely that multiple are required so there is no need for assembly or coupling. It comes fully assembled and ready to use. If you have a larger garden that is more than 100 square feet then you should definitely consider this product.
Pros
Tough
Easy to use
Made of high-quality PVC material
Quick to coil
Cons
Choosing The Right Flat Hose
There are a few factors to consider when choosing a flat garden hose:
Length: Consider the size of your garden and the distance you need the hose to reach. You'll want a hose that is long enough to reach all areas of your garden without being too cumbersome to maneuver.
Material: Flat garden hoses are typically made of either rubber or polyurethane. Rubber hoses are more durable and resistant to kinks, but they can be heavy and may be more prone to leaks. Polyurethane hoses are lighter and more flexible, but they may not be as durable.
Diameter: The diameter of the hose will affect the amount of water flow. A larger diameter hose will allow more water to flow, but it will also be heavier and more difficult to maneuver.
Connectors: Make sure the connectors on the hose are compatible with your faucet and any attachments you plan to use.
Price: Determine your budget and look for a hose that fits within it. Keep in mind that a higher price doesn't always mean a better quality hose.
Brand: Consider the reputation and warranty of the brand you are considering. It may be worth paying a little extra for a hose from a reputable brand that stands behind its products.
Check out the classic flat hose commercial below:
FAQs
Are flat garden hoses any good?
Yes, the main benefit of flat garden hoses is that they are more kink-resistant and puncture-proof than a round hose. A flat garden hose is also easier to carry and requires less storage space.
How long should a garden hose last?
On average, a good garden hose can easily last up to 5 years without major repairs. But the durability depends on its quality, usage, and construction material.
What are the other uses of a garden hose other than irrigation?
A garden hose is used for many things other than watering plants or irrigation. Its other uses include washing vehicles, filling or draining the pool, and giving a bath to pets, among other things.
What is the suitable length for hose pipes for a medium-sized garden?
The suitable length of a garden hose for most medium-sized gardens is 5o meters. If you want to have some extra length to reach heights or far-end corners then you can pick a 75-meter hose too.
What are the steps that one should perform for maintaining their water hoses?
The most important step for maintaining the quality of a water hose pipe is to ensure that the hose is completely drained before it gets packed for longer durations. You should also make sure your hose is not in direct and prolonged contact with sunlight or ice.
Verdict
The products mentioned in this list all are made of premium quality construction materials and come from reputed brands. All of the above-mentioned products have all the major qualities of a good flat garden hose.
They are rust-resistant and durable enough to withstand heavy use while being safe for use around children and pets. Some of the products are made for not just water use but chemical use as well.